We have a few of these "Shop Returned" quads. These have NOT been tested and may be fully working or have one minor issue (most of the time these are returned because either programing is too hard or the wrong TX was chosen).
They are open and complete. This is a great chance to get a second whoop.
When they are gone they are gone.



Features
64mm motor spacing, four carefully-tuned electric ducted fans




Makerfire F3 EVO Brushed flight controller with AC800 receiver, fully programmable through Cleanflight/Betaflight




Compatible with FrSky (Taranis) NOTE: Not both (they are different versions)




5.8G AIO 25mW camera, give you 10° camera angle




Special sauce edition motors, 17500Kv, 65,000 RPM@3.7v,up to 1.34A load current at 4.2V (direct drive)




35C 200mAh 1S battery, 3 min 40 seconds flight time



Specifications
Wheelbase: 64mm




Weight: 22g (without battery)




Flight Controller: Makerfire F3 Brushed FC with AC800 receiver




Motor: 6x15mm Coreless Brush Motor




Receiver: AC800




Camera and 5.8G Tx: AIO 520TVL 1/4 Inch Camera 25mW 40CH




Battery: 3.7V 200mAh Lipo battery with Pico JST connector




Flight time: 3 min 40 seconds



Package Includes:
1 x Micro FPV quad
1 x 200mAh 3.7v Lipo battery
1 x Service card

Frequently Asked Questions
Due to the overwhelming response from the customers, we have put together this FAQ to answer the most commonly asked questions.This section will grow as more and more customers give us valuable feedback and suggestions on how to improve the tuning.
Q: Can I enjoy it if i am a drone hobby beginner?

This is not a beginners quad.You will need a decent transmitter.
You will need to know how to use the program cleanflight/betaflight.
Most importantly,you should have 5.8G goggles to enjoy the FPV experience.
Q: Is this a complete RTF quad?

This is not complete RTF drone. You will need a transmitter to bind to it. FrSky Taranis
Q: I want more information about the brush flight controller.

F3 brushed flight controller with Native DSM receiver, supported with AC800 rx for Frsky
Q: What Flight Modes does it have?

The board runs the popular Cleanflight/Betaflight firmware that is fully customizable and includes several different modes: Auto-Level, Horizon (auto-leveling mode with ability to flip), and full manual (rate). You can also enable AirMode and be able to control the quad at any speed and attitude!
---
BetaFlight 3.0.1 rocks with the "MR. Steele" PIDs.
Binding & Betaflight Setup Procedure with External FrSky RX
A) Turn on transmitter, create new mode and enter setup, the Mode must be D8.

B) Power on the quadcopter by connecting the battery,red LED at the tail of the drone will flash rapidly on receiver after 6 seconds, the receiver is in ready for binding mode.Then turn on the transmitter, enter the binding mode, the red LED will turn solid, this means it has bound successfully with the default mode in SBUS.
Connecting the USB cable will not power on the FrSky RX,so you MUST connect the battery when binding.
Turn on the transmitter for 6 to 30 second to be bound in SBUS mode; Turn on the transmitter after 30 seconds to be




bound




in PPM mode. The flight controller will default SBUS mode.




C) For each flight, turn on the transmitter firstly, then power on the quadcopter, if the receiver has a solid red LED,this means it is bound correctly,with RSSI and voltage telemetry.

With FrSky RX,there are several different configurations to DSMX RX with Betaflight GUI .
The FrSky receiver is serial. It outputs SBUS signal.
Ports Tab:Switch on Serial RX of UART2.
And click the Save and Reboot button in the lower right corner.

Configuration Tab:Receiver Mode, choose RX_SERIAL; Serial Receiver Provider, choose SBUS.And click the Save and Reboot button in the lower right corner.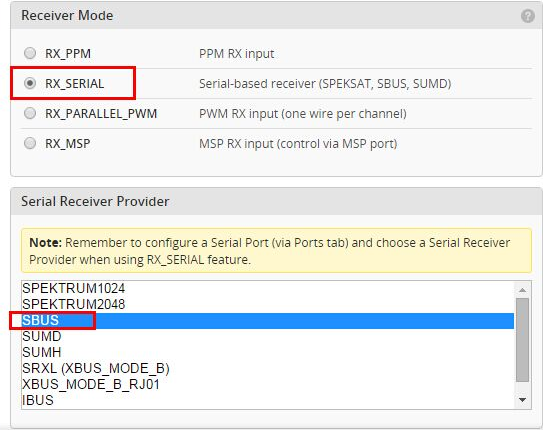 Why wont my quad arm?
It has been the case on a few transmitters that the quad does not seem to arm.
This could be due to the throttle not being quite at zero, and so the quad will not arm.

Please check your RX Range
An excellent info
page here
. (Look right down the bottom of the page)
Check this link about the beebrain as 99% of the info is the same for all quads
Here is a great video and another one about setting the endpoints in your tx as this is many peoples issue with not arming
Note :
The F3 flight control board has a native Spektrum DSM receiver which works with any DSM compatible transmitters,
It also has support for external receivers like Makerfires ISky AC800 which will allow you to connect your Taranis transmitter
Note : the included USB charger is NOT to be used as a long term solution for charging your lipos.
Never leave the lipo plugged in for longer than it takes to charge it.
We recommend you buy a proper lipo charger as soon as possible.
All clearance items are sold as seen and not returnable.
Please follow and like us: